Close to 100 people have tried to eat a massive burger served at a Surrey pub, but only two have risen to the timed challenge.
Competitive eaters Joel Hansen and Scott Eats each consumed the Blarney Stone burger at Donegal's Irish House in recent years — twice each, in fact.
The challenge involves eating the six-patty monster in under 30 minutes. Do that and the $55 burger is free.
"People also get a T-shirt and bragging rights," pub operator Daniel Cook said. "At this point, anyone who does it would be the first, other than those two professional eaters."
Launched about a dozen years ago, the big burger includes six beef patties, eight ounces of pulled pork, six slices of cheddar cheese, a half-pound of bacon, fried mushrooms, deep-fried pickles, lettuce, tomatoes, red onion and a plate of fries.
On Wednesday (Aug. 9), one man attempted the Challenge.
"He got close, got a good way through it, but couldn't do it," Cook reported. "He was the first guy in a bit, and during COVID we actually pulled it off our menu, so people have to know about it to order this burger.
"We want to get back into promoting it again because you know, it is a fun challenge," Cook added. "We've had around a half-dozen people try it since COVID."
Competitive eaters Hansen and Eats, from Ontario and Kelowna, respectively, filmed their Blarney Stone challenges for their YouTube channels.
Hansen consumed his burger in under six minutes the first time he tried, in the fall of 2020.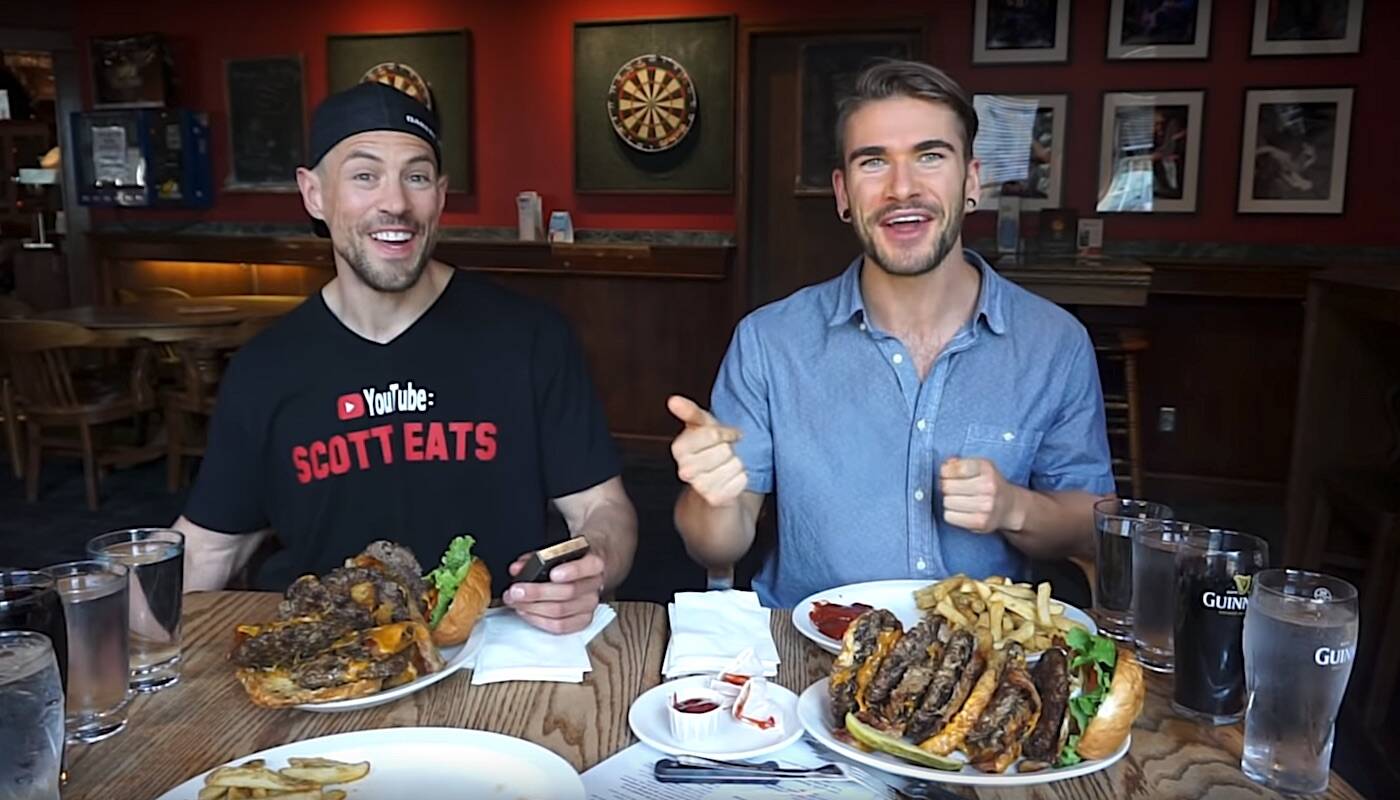 "There are two versions of the burger, starting with the original one we launched 12 years ago or so," Cook explained. "That was eight inches around and had a custom-made bun. It was an absolute monster and nobody could touch it. So we ended up retiring that one about seven years ago and bringing in the newer version, a little bit easier, on a standard bun, a tall stack."
The current burger is what Hansen and Eats first ate at Donegal's.
"So those guys came in, they beat my new burger, and then we got chatting with them about it and we said, 'Oh, we used to have this other one that was even bigger,' and they got all excited and arranged to come back at a later date and try to the original one, which they also took down a few months later."
Cheekily, they ordered and ate cheesecake after their first successful Blarney Stone challenge in 2020.
"It was unbelievable," Cook recalled. "They've trained, they know what they're doing. You watch a lot of guys come in and they fumble their way through it, but those guys, they had a system down and powered through the whole thing."
---

tom.zillich@surreynowleader.com
Like us on Facebook Follow us on Instagram and follow Tom on Twitter