For adrenaline junkies, outdoor adventurers or families looking for a thrilling, interactive way to spend a day, finding a variety of outdoor activities all in one place can make for a dream destination.
That dream comes true at Golden Skybridge by Pursuit, a collection of interactive, adrenaline-pumping attractions built around two suspension bridges hanging high above a Columbia Valley canyon in Golden, B.C.
"Golden Skybridge was kind of a venture into new territory for us, but something we thought really aligned with our Pursuit values of iconic, unforgettable and inspiring," says Golden Skybridge General Manager Tristan MacLaggan. "Golden is a beautiful community, with a great geographical proximity to Banff and Jasper, and just a great up-and-coming community with a great aspect of outdoor adventure."
Located just minutes from the Trans-Canada Highway, this attraction opened in 2021 with just the two suspension bridges . At 426 dizzying feet above the canyon, the main one is the highest suspension bridge in Canada. A walk across these two engineering marvels made my toes curl, but once brave enough to peek over the railing, I was rewarded with a breathtaking 360-degree view of the canyon and thundering waterfall, more than 40 storeys below!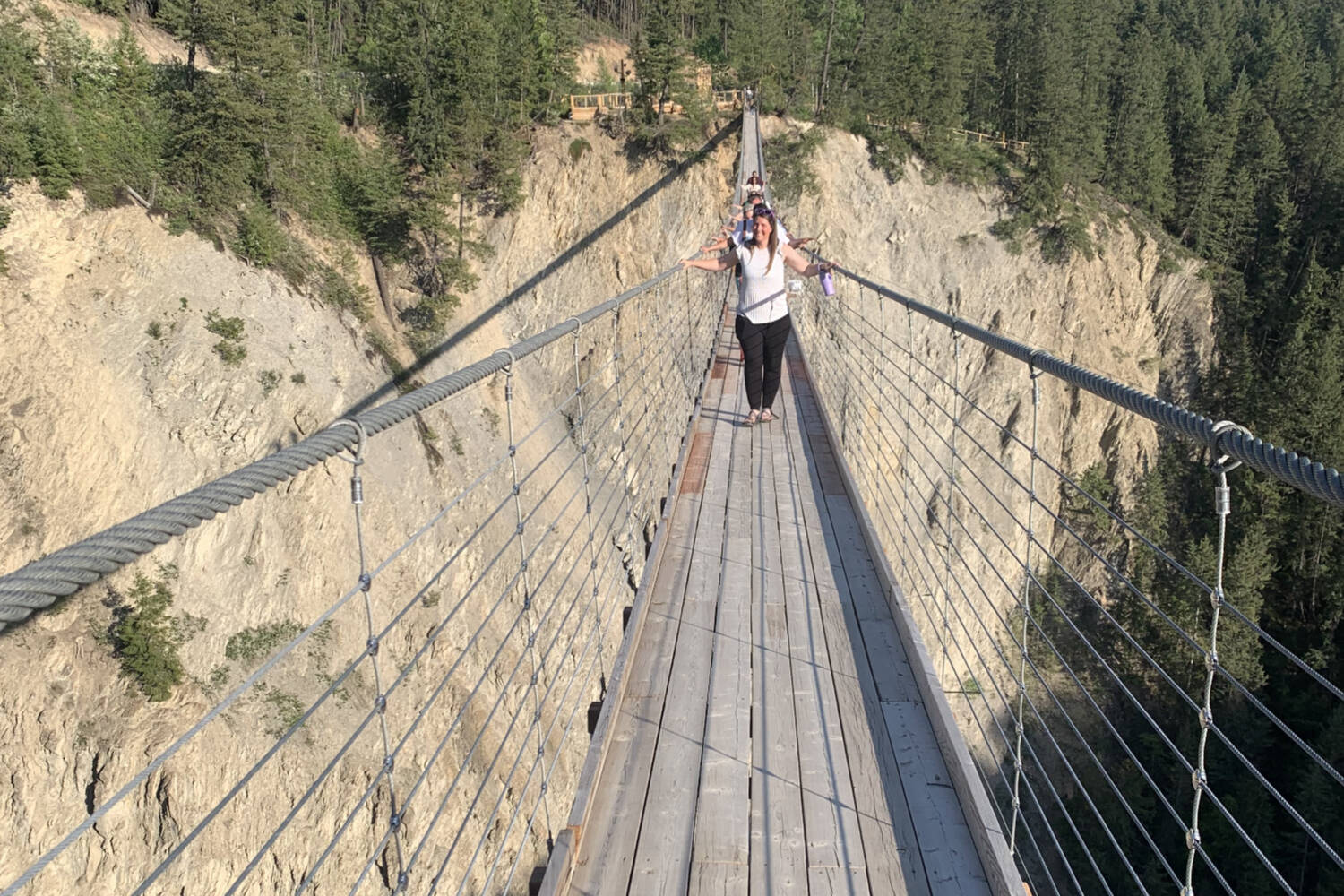 "When we opened in June of 2021 with just the two bridges and some trails, we welcomed 95,000 guests in three months, and really brought Golden Skybridge to life," MacLaggan says.
Since then, the outdoor adventure park has evolved to include much more. Guests can now sample a wide array of thrills, including interpretive attractions, Tree-Top Village kids' play areas, the Sky Zip Line, Canyon Edge Challenge Course, Climbing Wall, Axe Throwing, Giant Canyon Swing and the Railrider Mountain Coaster, which I was lucky enough to ride during its May 15 grand opening.
Zig and zag on the Railrider Mountain Coaster
The mountain coaster is a uniquely designed four-rail system that unlike other similar coasters is not completely gravity-fed.
"Railrider is the largest, fastest and most scenic mountain coaster in Canada, and we're really proud of that," says Bruce Quai, owner and COO of Aquatic Development Group (ADG), which designed and fabricated the coaster, before working with Pursuit on installation. "This project was unique both in setting and design, and not without its challenges. The steep verticals and terrain took a little engineering, but it was fabricated in sections off-site like a giant erector set, so we didn't need welders working in the middle of this beautiful, protected environment."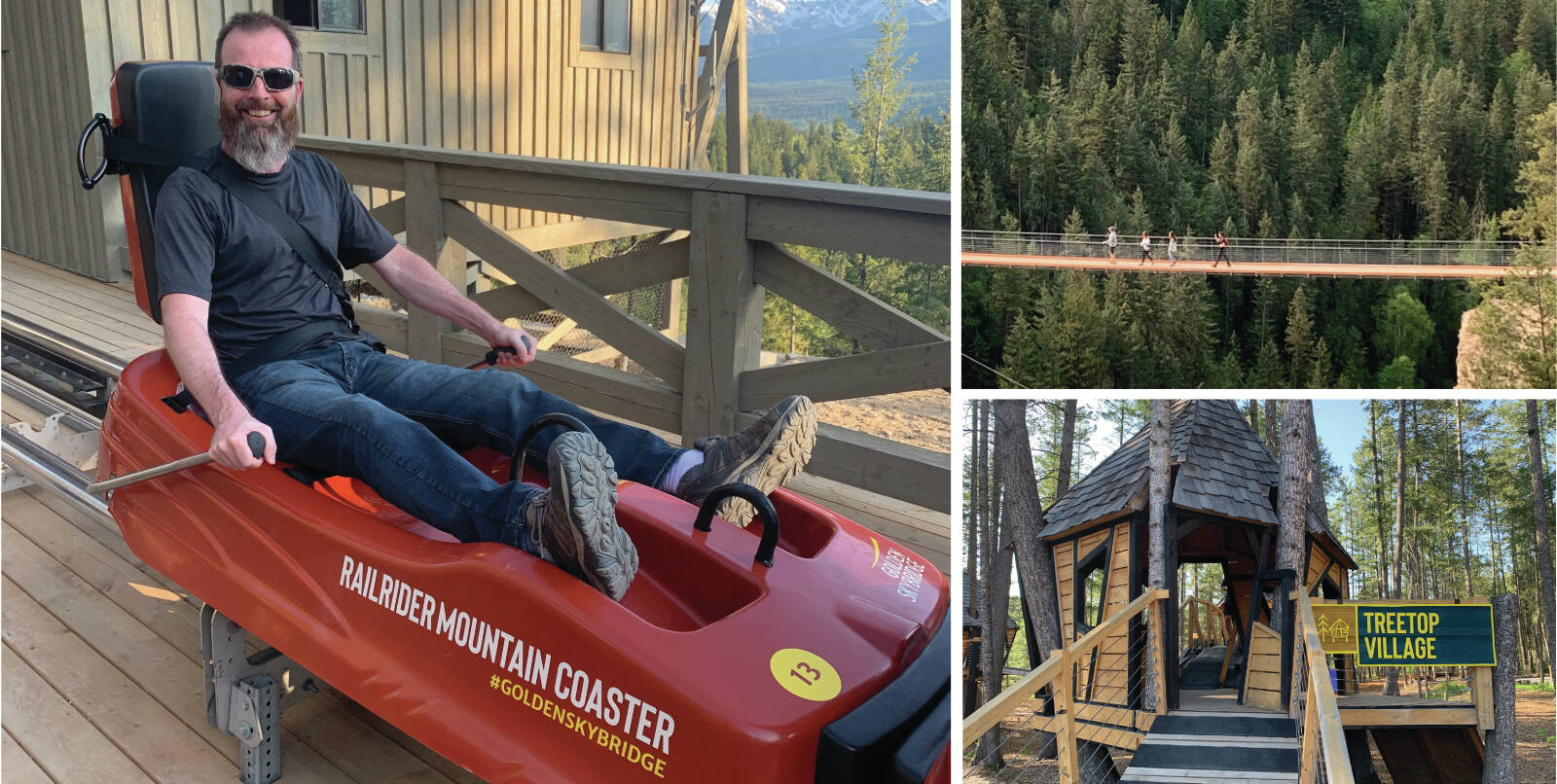 With its heart-pounding zigs and zags, the coaster rips through a tunnel before hugging the cliffside and veering down the mountain, treating riders to exciting views of the gorge as it speeds around the curves – all the while playing train sounds reminiscent of the history of the railroad in the area.
Riders can use hand-levers to increase or decrease speed, depending on the type of thrills they're comfortable with.
(Note that riders must be three years or older, and children younger than nine must ride with a person aged 16 years or older. Minimum driver height is 132 centimetres (52 inches) and minimum passenger height is 92cm (36 inches) The maximum combined weight is 140 kilograms (310 pounds) )
"The Mountain Coaster is designed and built for two riders, and the ability to control the brakes enables anyone aged three and up to go with an adult. Users can go 5 to 50 km/h depending on their level of thrill-seeking ," MacLaggan says.
I opted for the brakes pushed all the way forward, for full speed all the way!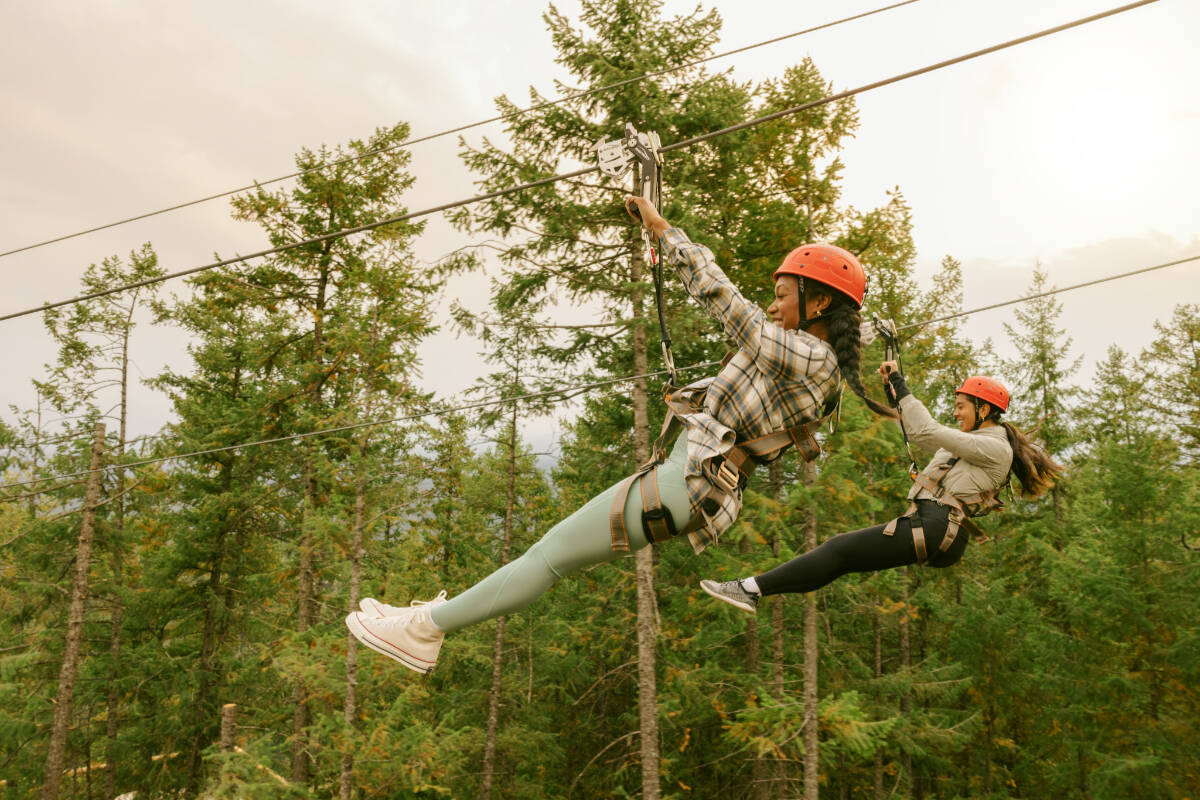 Fly high on the Sky Zipline
From the coaster, our little group of adventurers moved on to the Sky Zipline, a thrill ride 152 metres (500 feet) in the air, speeding 304 metres (1,000 feet) above the canyon, offering a bird's eye view of the river below – if you dare to look down!
"The concept and design of the Sky Zipline went through a few changes from start to finish," MacLaggan says. "We started out envisioning just one line, but wound up with the four lines you see today."
The friendly, professional staff strapped us safely into our harnesses, talking us through the whole process, and sharing advice to make us feel as confident as possible as we sailed across the canyon.
(Note that riders must be at least seven years old. Minimum weight is 27kg (60 lbs) and the maximum weight is 113kg (250lbs). Minimum height is 158cm (62"/ 5'1") with fingertips stretched overhead, and to fit accordingly in the harness)
"We're super lucky we're in a community like Golden, just for the amount of hard-core adventurers and technically skilled people, which you can imagine is very necessary for what we do here," McLaggan says. "We have a great synergy with our neighbours at Kicking Horse Mountain Resort, with a lot of the guides and patrol staff working here in the summer, as well as professional climbers."
Choose your own adventure
The zip line brings you back down to the park and the rest of the attractions to explore.
"'Choose your own adventure' is prevalent in everything we do," MacLaggan says. "For some people, walking across Canada's highest suspension bridge may be the most thrilling thing they've ever done, and for others it's a conveyance to get to the more exhilarating zip line challenge or the soon-to-open canyon swing."
I headed for the axe throwing attraction first, where after learning about safety and technique, I surprised myself with a bullseye on my very first throw!
(Note that participants must be at least 10 years old, and those younger than 16 must be accompanied by an adult.)
At the 8.5-metre (28 f00t) climbing wall, test your climbing skills, with easy, moderate and challenging routes to conquer.
Next, the tree-top Canyon Edge Challenge Course, another family-fun adventure that features three different ropes courses with varying degrees of difficulty .
Since I'd almost reached my thrill limit for the day , I was happy to watch others navigate the lush green environment overhead. (Note the age, height and weight restrictions are the same as the zip line)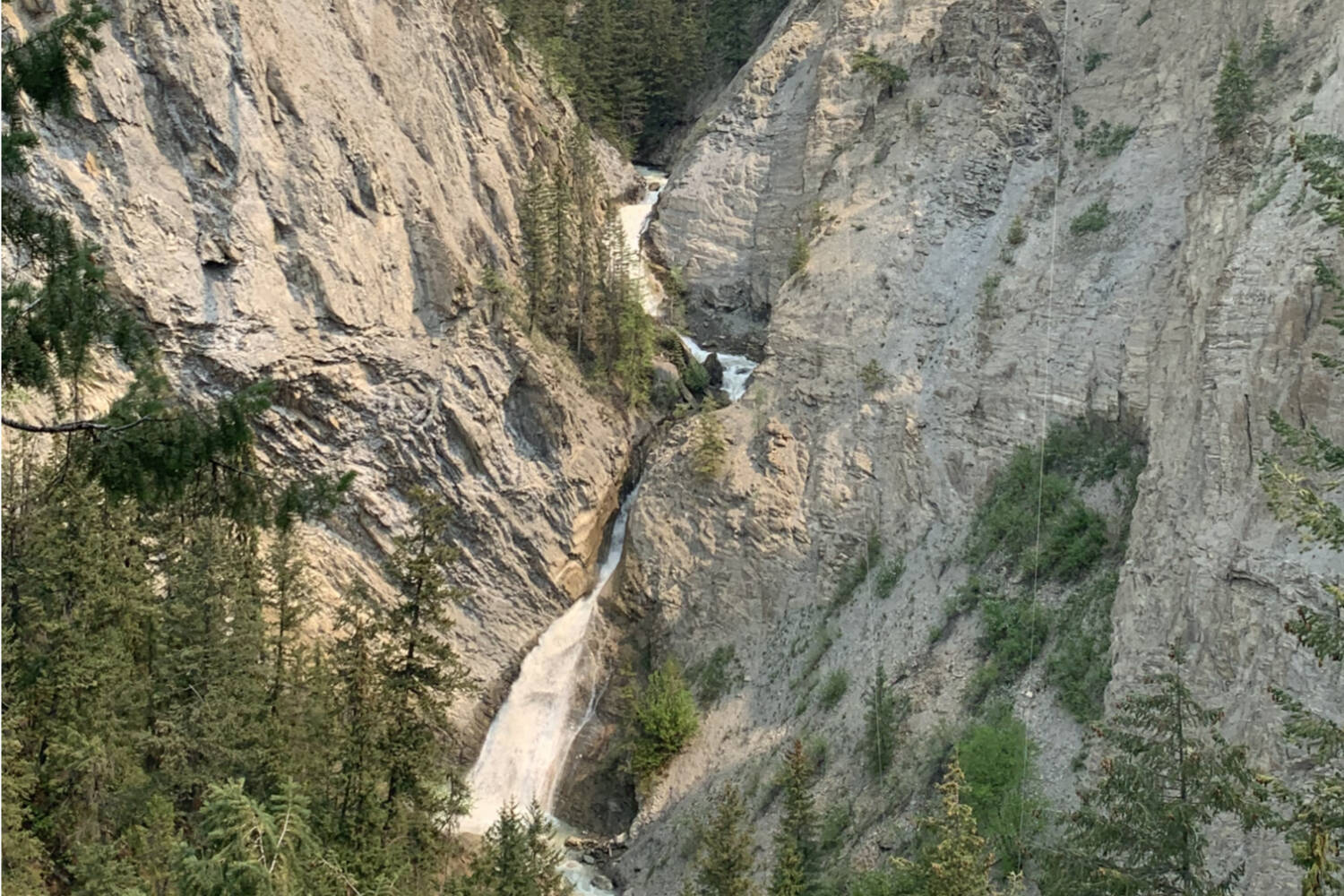 Focus on responsibility, sustainability and accessibility
The entire Golden Skybridge adventure park is dotted with viewpoints to take in the natural surroundings, including the Touch the Sky Seat, affording stunning views of the Rocky and Purcell Mountain ranges on the other side of the Columbia Valley.
Much of the wood used in building the attractions was milled onsite from trees on the property, and all the fencing was made from recycled telephone poles.
"Sustainablity and the environment are huge for us," MacLaggan says. "We see this as the tip of the iceberg in a community that we really want to integrate into and be a part of.
"This canyon has been special to the community for many generations, and we want to make sure it still belongs to the community, including the Indigenous peoples whose territory we're in," he says, pointing to the variety of events hosted with the local Ktunaxa Nation and Metis societies.
In the community, Golden Skybridge partners with local cafés and breweries for food and beverages, baked goods and local beer, and 40 per cent of items in their gift shop are supplied by local artists and vendors. Around 30 per cent of the staff are from the community, including about half of the students in Golden's College of the Rockies Adventure tourism program.
Locals can also take advantage of their Insiders Pass – a one-day admission gets you unlimited access all year.
"We have people who'll come 50 times in a season, and families coming three or four times a week just to play in the play park," MacLaggan says. .
"We also have a huge focus on accessibility. Just yesterday we were able to accommodate someone with accessibility issues who wanted experience the zip line and coaster. We've designed the trail network to be accessible, and all our abutments and bridges have the necessary ramps, but it's still somewhat dependant on the accessibility of the guest."
Plan your adventures throughout the West Coast at westcoasttraveller.com and follow us on Facebook and Instagram @thewestcoasttraveller. And for the top West Coast Travel stories of the week delivered right to your inbox, sign up for our weekly Armchair Traveller newsletter!