Description: As part of the public consultation process required by Innovation, Science and Economic Development Canada (ISED), formerly Industry Canada, Rogers Communication Inc. is inviting the public to comment on two (2) proposed telecommunications facilities on Canadian Pacific Railway lands in Glacier National Park along Highway 1. This proposal consists of a 51m self-support tower (W3069) and a 41m self-support tower (W2989), each with a fenced equipment compound at the base. These towers are proposed to provide dependable wireless data and voice communication services to the Highway. The proposed tower construction details are subject to review by the land use authority (Parks Canada).
Location: Glacier National Park (W3069 - PID: 017-371-414) (W2989 - PID: 017-371-023)
Coordinates: (W3069 - N 51.267438, W 117.515937) (W2989 - 51.36207, -117.44577)
Location Map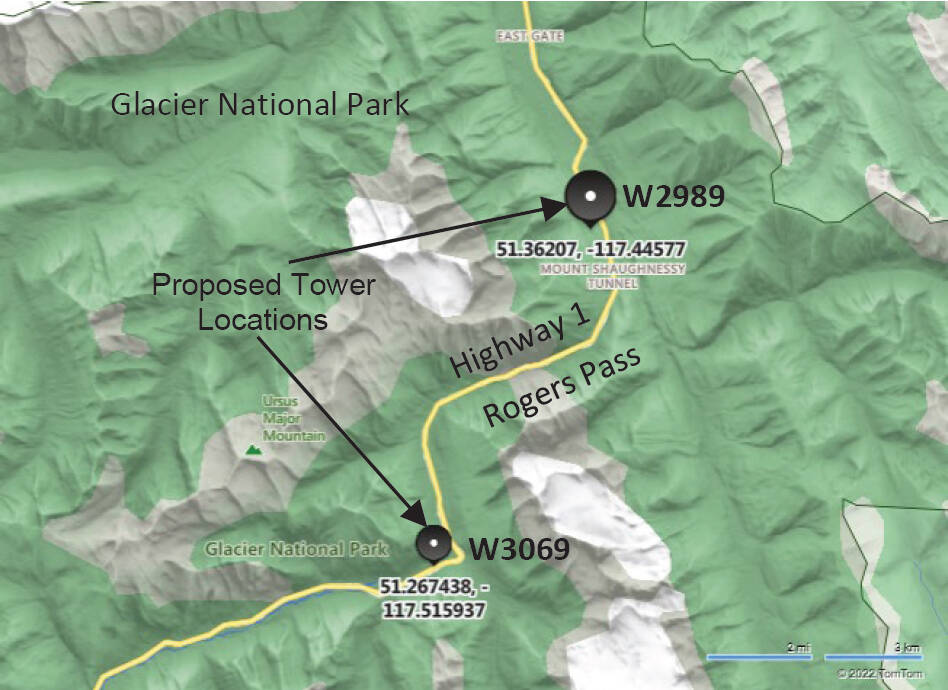 For More Information:
Contact Rogers Communications Inc. at:
Kristina Bell c/o
Cypress Land Services
Agents to Rogers Communications Inc.
Suite 1051, 409 Granville Street
Vancouver, BC V6C 1T2
Tel: 604.620.0877
Email: publicconsultation@cypresslandservices.com
The public is welcome to comment on the proposal by the end of the business day on March 19th, 2023, with respect to this matter.
Rogers File: W3069 & W2989