Ten years ago the Tim Hortons on Main Street in Penticton closed its doors and there it has sat since, frozen in time, the same as it did in 2013.
This Tim Hortons was located beside the Smart Shoppers in the 200 block of Main and was the first Timmy's to come to Penticton.
In its heyday, it was a bustling coffee shop where everyone came to get their double-double, donuts and breakfast sandwiches.
But when the lease came due, the landlord was not willing to fix some structural issues, including the roof, that needed to be addressed, said Nicole MacMillan (nee Stawarz), whose parents opened the location in 1992.
"If it wasn't for that, we'd still be there," she added.
But instead, they shuttered the shop.
It was the Stawarz's first step into the Tim Hortons franchise. They now own all the Timmy's in the South Okanagan and have locations in parts of the Kootenays, having just opened one in Grand Forks.
"I remember sitting on the sugar bags in the back and playing hide and go seek in the dark with my sister there," said MacMillan. It was a huge space, she added.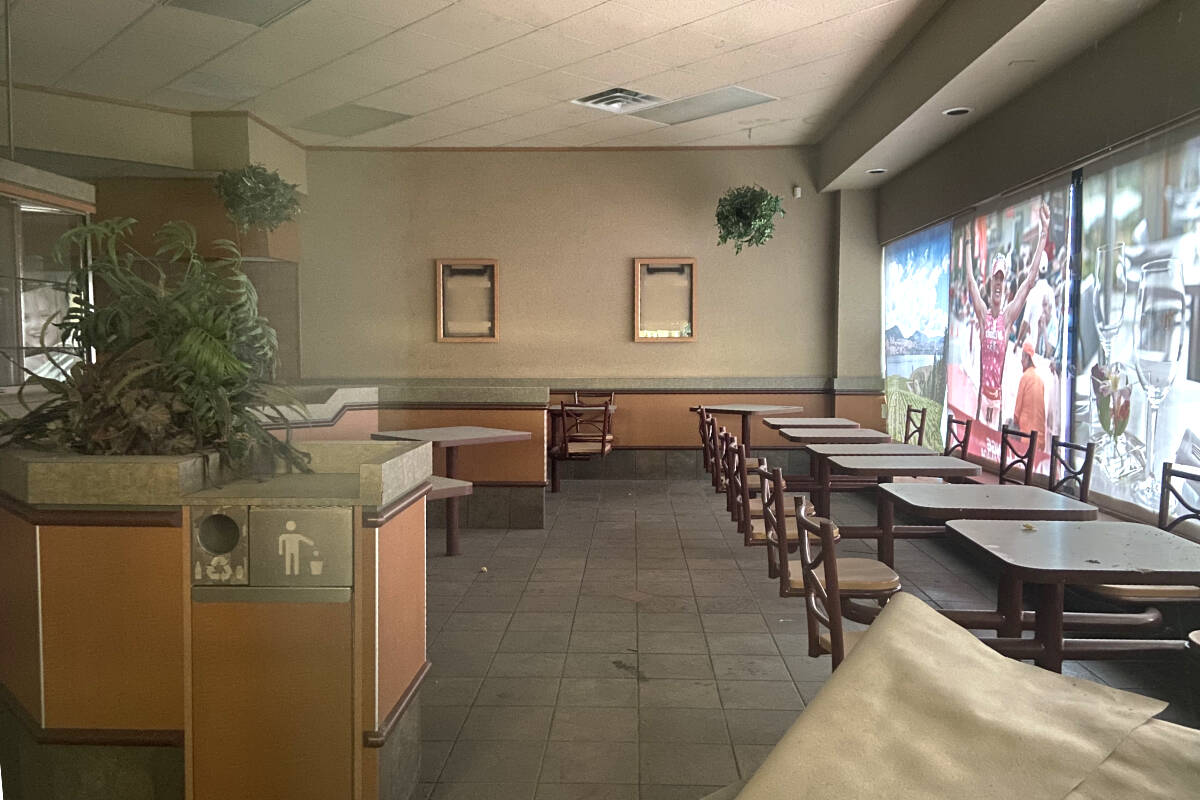 The sisters grew up at that Timmy's, eventually both working there for a time.
"Lots of memories there. Our scratch baking happened there. It was a time when the iced capp had just come on the market and breakfast sandwiches too," she said.
When someone recently posted pictures of the closed Main Street location on Facebook, many reminisced about the former coffee shop.
One person said their dad would take her sister and her there 'for peach juice and a sprinkle donut.'
"I remember hot chocolate and fresh long johns and apple fritters from there… my mom used to take me there," remarked someone else. Others had their first job there, went on a date or studied there.
When it was time to close the Main Street location to focus on the Westminster Avenue Timmy's, a strange thing happened.
The seating and tables are still there, the counters, display cases and shelving too. Even the plastic plants remain in place collecting 10 years of dust.
According to MacMillan, everything attached in that building had to stay and they could take anything that they could move.
That's why the Timmy's looks like it's a time capsule.
But the 10-year lease is believed to be up and MacMillan is just as curious and excited to see what will go into that space. There's a lot of work to do, including removing all the Tim Horton's shelving and furniture.
"It's a great location and a big space. There are lots of possibilities," she said. "I'm just as curious as everyone else what the future holds for that space."
To report a typo, email: editor@pentictonwesternnews.com.
<>
Don't miss a single story and get them delivered directly to your inbox. Sign up today for the Penticton Western News Newsletter.
<>
---
@PentictonNews
newstips@pentictonwesternnews.com
Like us on Facebook and follow us on Twitter.