Art comes alive at 22 studios, shops and galleries taking part in the annual Penticton Fall Art Walk from 11 a.m. to 4 p.m. on Saturday, Nov. 18.
From the Leir House to Lakeshore and more there is something for everyone, from live painting to pottery making.
The Leir House will be hosting the opening of their new exhibitions, Animal Antics II in Gallery I and Kurt Hutterli's solo, Playful Colours and Mysterious Objects in Gallery II. Their Holiday Art Market will be running out of the Community Room with some exciting vendors ready to go.
Each venue has unique offerings and activities from prize draws to artists on site, yummy treats, and more.
For example, Peggie Collins' 100 Shoes for Mental Health art exhibit will be displayed at Below the Ankle. The Penticton Art Gallery is set to launch a significant new exhibition on Saturday, delving into the life, art, and enduring legacy of the late Cree artist, Alvin Elif Constant, affectionately known as "Wandering Spirit" (1946-2006).
READ MORE: Penticton artist paints 100 shoes for mental health
The art walk series is curated and managed by the Penticton Arts Council. The Fall Art Walk Map is sponsored by the Downtown Penticton Business Improvement Association and is in partnership with the Penticton Art Gallery, Visit Penticton, local galleries and businesses.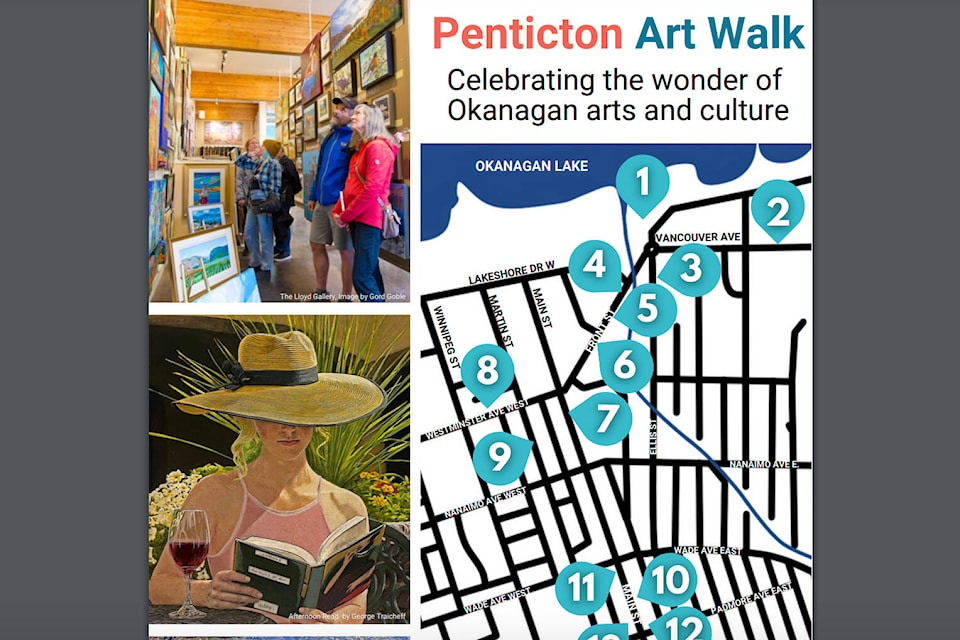 Participating venues:
* Cannery Trade Centre: 4th Meridian Art & Auctions, Speckled Row & Donut House Studios;
* Leir House Cultural Centre: Penticton Arts Council & Penticton Potters Guild;
* Tumbleweed;
* Framing & Gallery; Canadian Handmade;
* Legacy Den;
* Artables;
* White Lioness Metaphysics;
*Sahara Garden Art;
*City Centre Fitness;
*Aurora Matheson Gallery;
Picture This Framing & Gallery;
*Below the Ankle;
*Rasha Tattoo & Gallery;
* Dragon's Den Art Supplies;
* The Lloyd Gallery;
* Art Up Studios;
*Cormier's Studio;
* The Bench Market;
* Penticton Art Gallery